Fantasy Box Featured Author: Menna Van Praag
Featured Book: The Witches of Cambridge
Amandine Bisset has always had the power to feel the emotions of those around her. It's a secret she can share only with her friends – all professors, all witches – when they gather for the Cambridge University Society of Literature and Witchcraft. Amandine treasures these meetings but lately senses the ties among her colleagues beginning to unravel. If only she had her student Noa's power to hear the innermost thoughts of others, she might know how to patch things up. Unfortunately, Noa regards her gift as a curse. So when a seductive artist claims he can cure her, Noa jumps at the chance, no matter the cost.
Noa's not the only witch who's in over her head. Mathematics professor Kat has a serious case of unrequited love but refuses to cast spells to win anyone's heart. Kat's sister, Cosima, is not above using magic to get what she wants, sprinkling pastries in her bakery with equal parts sugar and enchantment. But when Cosima sets her sights on Kat's crush, she conjures up a dangerous love triangle.
As romance and longing swirl through every picturesque side street, the witches of Cambridge find their lives unexpectedly upended and changed in ways sometimes extraordinary, sometimes heartbreaking, but always enchanting.
Paranormal Romance Box Featured Author: Magnus Flyte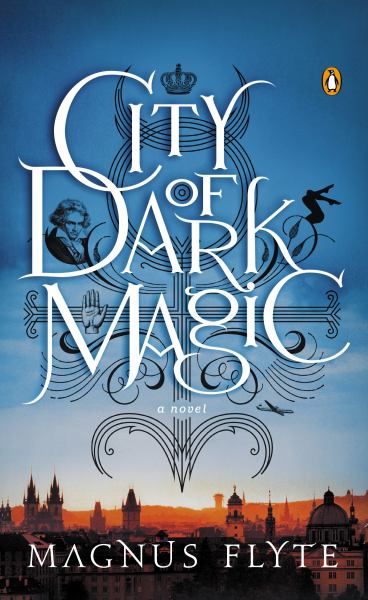 Featured Book: City of Dark Magic (City of Dark Magic #1)
Once a city of enormous wealth and culture, Prague was home to emperors, alchemists, astronomers, and, as it's whispered, hell portals. When music student Sarah Weston lands a summer job at Prague Castle cataloging Beethoven's manuscripts, she has no idea how dangerous her life is about to become. Prague is a threshold, Sarah is warned, and it is steeped in blood.
Soon after Sarah arrives, strange things begin to happen. She learns that her mentor, who was working at the castle, may not have committed suicide after all. Could his cryptic notes be warnings? As Sarah parses his clues about Beethoven's "Immortal Beloved," she manages to get arrested, to have tantric sex in a public fountain, and to discover a time-warping drug. She also catches the attention of a four-hundred-year-old dwarf, the handsome Prince Max, and a powerful U.S. senator with secrets she will do anything to hide.
Romance Box Featured Author: Tilly Bagshawe
Featured Book: The Inheritance (Swell Valley #1)
The Flint Hamiltons have owned Furlings, the 'big house' in Lymington for the last two hundred years and as Rory FH's only, much beloved child, 27 year old 'It Girl' Tati has always believed she was in line to inherit not only Furlings, but a substantial trust fund to boot. But, when her father dies and she returns to Lymington for the reading of the will, she discovers she has in fact been left with nothing. Terrified it would all go on drugs, Rory left the lot to Tati's cousin, a womanising Australian entrepreneur called Brett Cranley.
Science Fiction Box Featured Author: Linda Nagata
Featured Book: The Red: First Light (The Red #1)
Lieutenant James Shelley, who has an uncanny knack for premeditating danger, leads a squad of advanced US Army military tasked with enforcing the peace around a conflict in sub-Saharan Africa. The squad members are linked wirelessly 24/7 to themselves and a central intelligence that guides them via drone relay – and unbeknownst to Shelley and his team, they are being recorded for a reality TV show.
When an airstrike almost destroys their outpost, a plot begins to unravel that's worthy of Crichton and Clancy's best. The conflict soon involves rogue defense contractors, corrupt US politicians, and homegrown terrorists who possess nuclear bombs. Soon Shelley must accept that the helpful warnings in his head could be AI. But what is the cost of serving its agenda?
Teen Box Featured Author: Alexander Gordon Smith
Featured Book: Hellraisers (The Devil's Engine #1)
The Devil's Engine is a machine from the darkest parts of history. It can make any wish come true—as long as you are willing to put your life on the line. When a sixteen-year-old asthmatic kid named Marlow Green finds himself trapped in a surreal firefight against nightmarish creatures in the middle of his New York City neighborhood, he discovers a squad of secret soldiers dedicated to battling the legions of the Devil himself. Faced with monstrous apparitions, ancient weaponry, and his own hellishly tedious high school existence, Marlow submits to a demonic deal with the infernal device that enables him to join the battle—if it doesn't kill him first.
Thriller Box Featured Author: Luke Delaney
Featured Book: Cold Killing (DI Sean Corrigan #1)
Terrifyingly authentic, London-set debut crime novel with a psychological edge, by an ex-Met detective. Perfect for fans of Mark Billingham, Peter James and Stuart MacBride.
DI Sean Corrigan is not like other detectives. The terrible abuse he suffered in childhood hasn't stopped him enjoying family life with his wife and two daughters, or pursuing an impressive career with South London's Murder Investigation Unit. But it has left him with an uncanny ability to identify the darkness in others—a darkness he recognizes still exists deep within his own psyche and battles to keep buried there. Now Sean's on the trail of the most dangerous killer he's ever encountered. The perpetrator has no recognizable MO, leaves no forensic evidence and his victims have nothing in common. But Sean knows they were all murdered by the same man. Now all he has to do is find the evidence, convince his bosses and stop the killing… before his adversary gets too close to home…
WhoDunIt? Box Featured Author: Jeri Westerson
Featured Book: Veil of Lies (Crispin Guest Medieval Noir #1)
Crispin Guest is a disgraced knight, stripped of his rank and his honor – but left with his life – for plotting against Richard II.  Having lost his bethrothed, his friends, his patrons and his position in society.  With no trade to support him and no family willing to acknowledge him, Crispin has turned to the one thing he still has – his wits – to scrape a living together on the mean streets of London.  In 1383, Guest is called to the compound of a merchant – a reclusive mercer who suspects that his wife is being unfaithful and wants Guest to look into the matter.  Not wishing to sully himself in such disgraceful, dishonorable business but in dire need of money, Guest agrees and discovers that the wife is indeed up to something, presumably nothing good.  But when he comes to inform his client, he is found dead – murdered in a sealed room, locked from the inside.  Now Guest has come to the unwanted attention of the Lord Sheriff of London and most recent client was murdered while he was working for him.  And everything seems to turn on a  religious relic – a veil reported to have wiped the brow of Christ – that is now missing.